Monthly Archives:
October 2015
On October 29, 2015, Bombardier reported its financial results for the
third quarter ended September 30, 2015. Revenues totaled $4.1 billion for the
quarter, compared to $4.9 billion for the same period last fiscal year. For the
third quarter ended September 30, 2015, earnings (loss) before financing
expense, financing income and income taxes (EBIT) totaled a loss of $4.6
billion, compared to earnings of $171 million for the same period last fiscal
year. Net loss totaled $4.9 billion, or loss per share of $2.20.
The company explained these negative financial indicators take place due
to special items mainly related to impairment charges on C Series and Learjet
85 program. On October 28, 2015, due to a lack of sales after prolonged
weakness of the market, Bombardier closed the Learjet 85 program. As a result,
in the third quarter of the fiscal year 2015, expenses were written off in the
amount of $ 1.2 billion. However, the Canadian manufacturer will continue to
develop a family of Learjet. Another $ 3.2 billion were written off under the
CSeries program, but Bombardier has signed a memorandum of understanding with
the Ministry of Economy and Innovation of Quebec to repurchase 49.5% of the
shares in the program for $ 1.0 billion.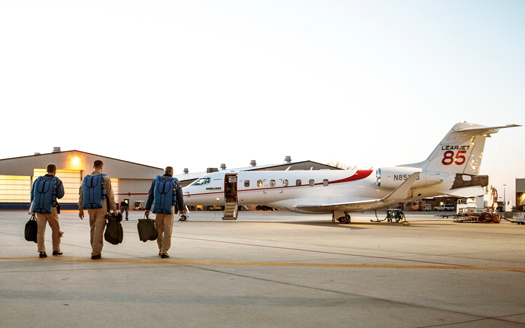 In the third quarter, Bombardier Business Aircraft earned $ 1,558 billion,
which is by 5% lower than a year earlier. In total, 43 business jets were delivered
including seven Learjet 70/75s, 18 Challenger 300/350s, three Challenger 605s
and 15 Global 5000/6000s. This amount is by two less than in the same period
last year, during which, the producer handed its customers seven Learjet 70/75s,
one Learjet 60XR, 12 Challenger 300/350s, Challenger 605 and 19 Global.
However, for the first nine months, business jet deliveries have been increased
by nine aircraft, coming to 135 planes.
After the cancellation of the order portfolio for 11 Learjet 85s in the
first half of the year, Bombardier also wrote off the remaining 64 orders for
these aircraft in the last quarter. As a result, in the third quarter, the producer
has a negative balance of orders for 32 aircraft.
Excluding the cancellation of Learjet 85, the ratio of orders received
to the released aircraft currently stands at 0.7, as compared to 0.5 last year.
In another promising program, Global 7000/8000, the manufacturer has
positive steps. On the first testing Global 7000, they installed engines and
structural components were mounted, including all sections of the fuselage,
wings, tail assembly and the chassis. Furthermore, wiring was installed and one
has started functional test procedures.
The second prototype is in the final stages of assembly when one joined
rear, central and front section of the fuselage and the cabin. Also, two
prototypes are at various stages of production and assembly now.
Challenger 650 certification program is currently 95% complete.
Obtaining of the certificate is scheduled for the fourth quarter of 2015.
Source – http://www.bizavnews.ru/