Daily Archives:
08.06.2016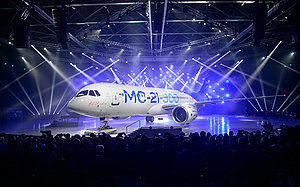 Today, June 8, 2016,
a ceremony of rolling out a MS-21 new passenger aircraft
was held in Irkutsk, Russia. This is a family of short- and
medium-haul new generation aircraft having a capacity of 132 – 211 seats.
The Irkut Corporation PJSC, a part of the United Aircraft Corporation, is a developer
and manufacturer of this aircraft. An AS Yakovlev Engineering Center is
responsible for the development of design of documentation for MS-21,
production is carried out at the Irkutsk Aviation Plant.
"The construction of the first aircraft is an important stage of the
MS-21 Programme. We are waiting for a delegation of our partners,
existing and potential customers and representatives of federal and regional
authorities at the Irkutsk Aviation Plant", said Oleg Demchenko, President, Irkut
Corporation PJSC.
MS-21 includes all the latest developments in the field of aircraft and
engine. Composite wing, larger diameter fuselage, engines and latest-generation
systems provide a competitive edge liner: lower operating costs, increased
passenger comfort, satisfaction of the requirements of prospective regulations
on environmental impact.
This airliner is focused on the most capacious segment of the world
market. The family of the MS-21 medium-haul includes two models, designed with
a high degree of unification. MS-21-200 is designed to carry 132 – 165 passengers,
whereas MS-21-300 can carry up to 163-211 people. The aircraft is not only the
best performance, as regards its characteristics, but it is also quite able to
compete with the world leaders including the price formation.
The Irkut Corporation formed the starting portfolio of firm orders for 175
MS-21s, plus "soft orders" for more than 100 planes. Advances have already been
received for all firm contracts. It might be possible to sell at least 1,000 MS-21s.
Aircraft is designed to be operated within at least 20 years, amounting to
about 10% of the world market supply of single-aisle aircraft with a capacity
of 140-230 seats. One has already signed firm contracts to supply 175 MS-21s, and
Aeroflot is expected to become the first operator of these aircraft. Some foreign
companies, as expected, may become the operators, too.
Source – http://www.ruaviation.com/