Monthly Archives:
March 2017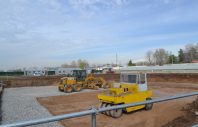 Immediate
work to construct this cargo terminal began at the Dushanbe International
Airport, Tajikistan. The facility that is being raised by financial assistance
from the Government of Japan, is scheduled to be commissioned by the end of the
summer of 2018.
The First
Deputy Minister of Transport of Tajikistan Sukhrob Mirzoyev, Japanese
Ambassador to Dushanbe Hajime Kitaoka, Deputy Director General of Dushanbe
International Airport JSC Asliddin Melikov took part in the ceremony of
launching the construction of the airport's cargo terminal on Friday, March 31,
2017.
According
to Mr. Mirzoyev, construction of the terminal will be carried out in two
stages. At the first, direct works will be carried out to construct the
terminal, and in the second stage additional works will be carried out to
improve the territory around the facility and provide it with electricity.
Mr. Mirzoev
noted that the work of the first phase is financed by the gratuitous assistance
of the Japanese Government in the amount of US $ 17.5 million, which are
provided through the Japan International Cooperation Agency (JICA).
"Currently,
negotiations are underway with other donors regarding financing of the second
stage", the First Deputy Minister said.
The
first phase of the project will be implemented by the Nippon Construction
Corporation, Japan(a group of Japanese companies) with the involvement of Tajik construction
companies.
One expects
that in the second quarter of this year an international tender will be
announced for the selection of a contractor for the implementation of the
second phase of the project.
Source – https://news.tj/